Upcoming:
September 4-7 – 26th International Conference on Digital Audio Effects (DAFx23)
The 26th Digital Audio Effects Conference (DAFx23) will be held on September 4-7, 2023 at Aalborg University, Copenhagen.
This annual conference brings together research practitioners across the globe working with digital audio processing for music and speech, sound art, acoustics and related applications.
DAFx23 is organized by the Multisensory Experience Lab. The conference will be held at the Copenhagen campus and features oral presentations followed by poster/demo sessions of accepted papers, keynote addresses, tutorials and demonstrations, and a social program.
Further details can be found at the conference website: https://dafx23.create.aau.dk.

June 12-17 – Sound & Music Computing Conference 2023 (SMC 2023)
The Sound & Music Computing Conference 2023 and Summer School will take place in Stockholm, Sweden, 12-17 June 2023. The event is organized by research groups in the field of Sound and Music Computing at KTH Royal Institute of Technology and Composition at Royal College of Music in Stockholm.
Further details can be found at the website: https://smcnetwork.org/smc2023/
2023
April 21 – Inauguration of installations at The Danish Music Museum
Aalborg University Copenhagen and the Danish Music Museum, a part of the National Museum of Denmark, continues the exciting partnership to delve into the crossover of music and technology. With the aim of making musical history come alive through state-of-the-art interactive museum installations, this collaboration resulted in the inauguration of two installations in April 2023.
One of the installations is interactive experience that allows visitors to play the iconic Violino Arpa (Amoeba violin), housed within The Danish Music Museum (image below). The installation enables users to morph between violin bodies of different shapes and sizes. By manipulating the instrument's form, visitors can hear the distinct tonal variations produced by different violin bodies. This interactive installation invites the user to understand and appreciate the impact of physical design on the sound produced by string instruments.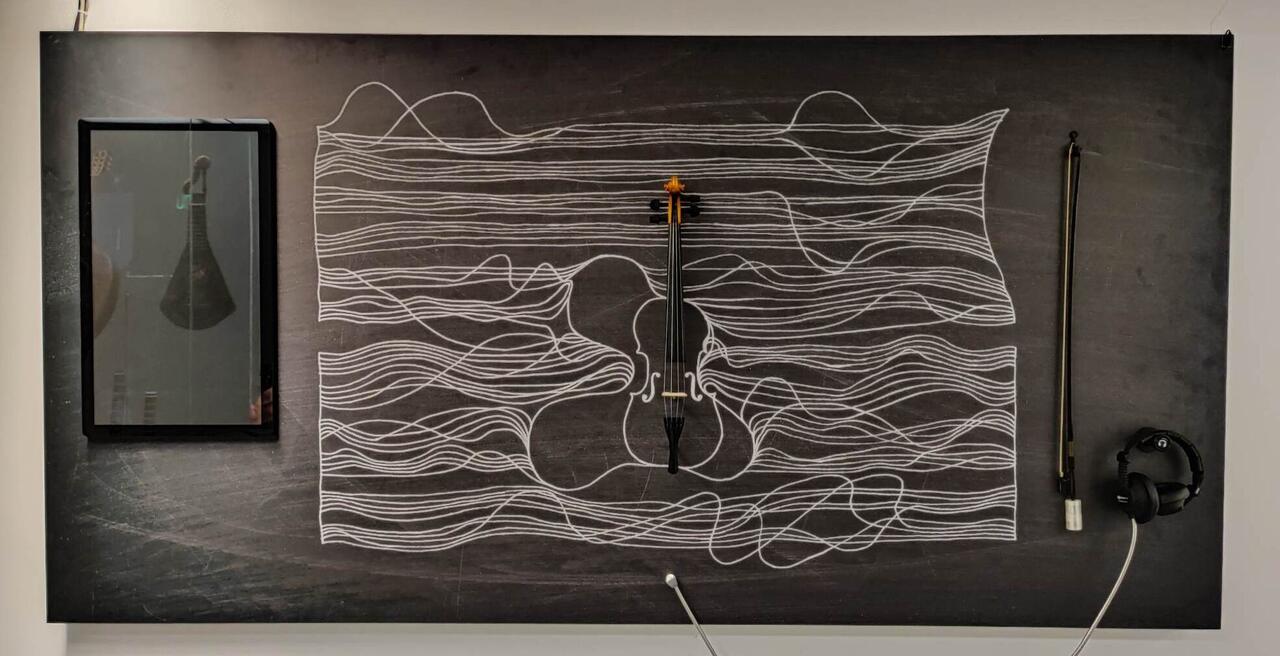 The second installation offers visitors an immersive experience into the history of the glass harmonica, invented by Benjamin Franklin. Using Virtual Reality, users can engage with a virtual Benjamin Franklin himself, who narrates the story behind the glass harmonica. Moreover, visitors play a virtual glass harmonica, gaining insights into the instrument's unique sound and historical significance (image below).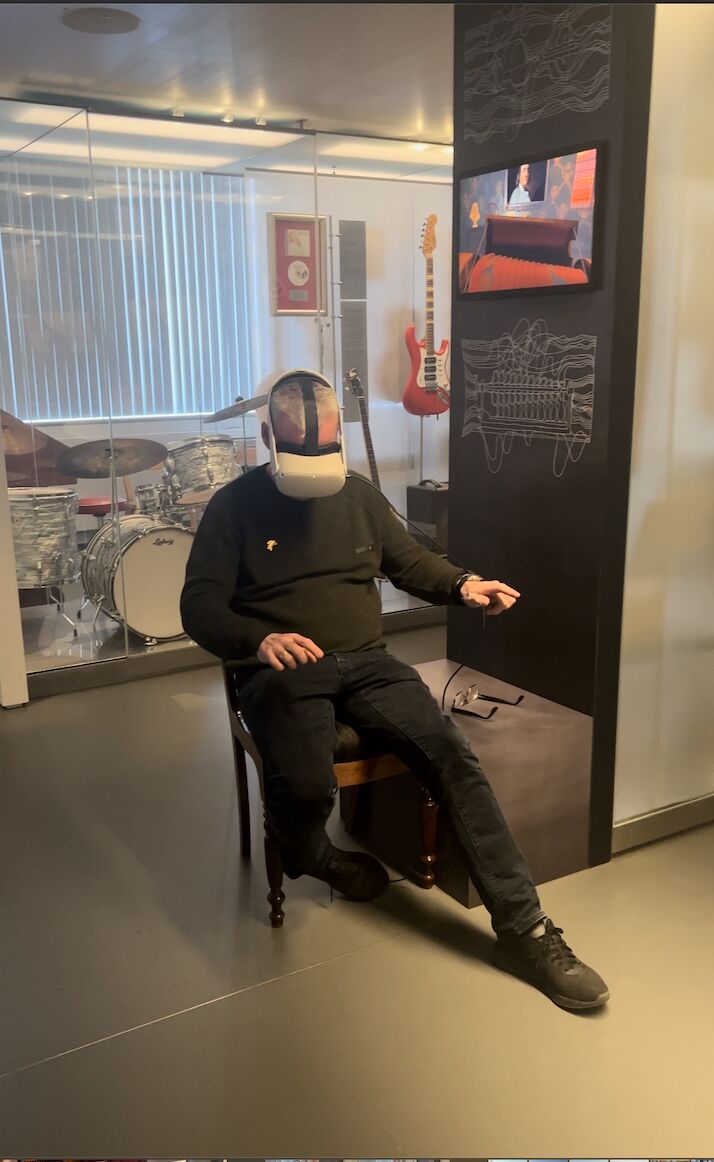 2022
November 21-22 – Embodied Perspectives on Musical AI Workshop (EmAI)
Location: University of Oslo
The seminar was set up to celebrate the lifelong achievements of Professor Rolf Inge Godøy and included 30 invited lectures, performances and installations.  
April 19 – CoolHear Workshop
The Multisensory Experience Lab at Aalborg University Copenhagen, the Center for Hearing and Balance at Rigshospitalet and the Royal Danish Academy of Music organized a hands on and listening workshop for hearing impaired users.
Participants experienced the newly built 3D sound concert hall at the Danish Royal Academy of Music, listening to and feeling acoustic and electronic music, including a bass and voice duo and a string quartet.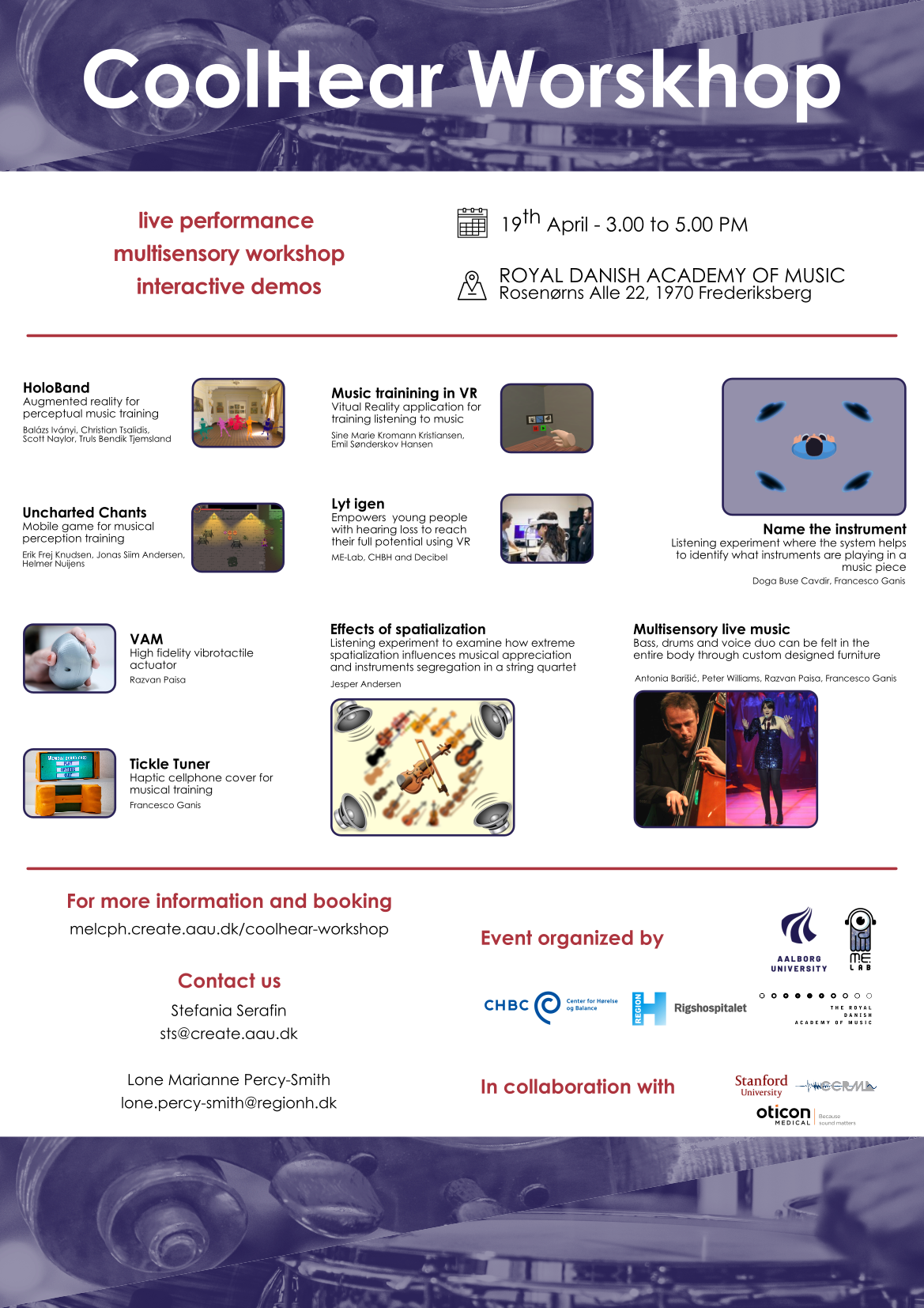 2021
November 11-12 – Second Nordic SMC conference hosted by Aalborg University Copenhagen (online event)
NordicSMC 2021 welcomed both scientific and music-based contributions that lay within the scope of the Sound and Music Computing (SMC) field, especially those relevant to the featured topic: 
Interdisciplinary Perspectives on Research in Sound and Music Computing.
Through this topic, we aimed to foster SMC research by bringing together the promising new generation of talented young researchers and students. Our goal was to provide them with the full online conference experience in the presence of some of the most renowned veterans of the field.
The conference included a hands-on workshop on the JUCE framework with Silvin Willemsen, as well as a Keynote by Ludvig Elblaus and a panel discussion on Rigorous Empirical Evaluation of SMC Research moderated by Sofia Dahl. The full conference proceedings can be found here.

Autumn – Music and Machine Learning Course
In Autumn 2021 we opened the UiO course MCT4047 to the Nordic SMC University Hub. MCT4047 is a 5 ECTS Master's level course offered as an elective to UiO and NTNU students of the Master programme in Music, Communication and Technology (MCT). The course is organized as a two-weeks intensive workshop, preceded by a two-weeks period of individual preparation (flipped classroom model) and followed by an individual project-based exam.
2019
Official collaboration between Aalborg University Copenhagen and the Danish Music Museum, part of the National Museum of Denmark. 
As part of this collaboration, music installations and novel musical instruments built by personnel of the project can be exhibited at the museum. The collaboration was officially started in November 2019 with the installation Menagerie by visiting researcher Nolan Lem.
November 19-20 – First Nordic SMC conference in Stockholm
Check the final projects here: https://www.uio.no/ritmo/english/projects/all/nordicsmc/events/conferences/2019/winter-school/projects/
2018
September 4-8 – Digital Audio Effects Conference
August 15-16 – Nordic SMC kickoff meeting at University of Iceland.
May 28-30: KTH – Computer Assisted Music Composition Course
Teacher: Roger B. Dannenberg, Programme of the course can be found here: https://www.kth.se/mid/news/course-computer-assisted-music-composition-1.822484
May 24 –  Seminars on the occasion of Ludvig Elblaus PhD defence.
Atau Tanaka – Embodied Musical Interaction
Roger B. Dannenberg – O2: Rethinking Open Sound Control
Damian Murphy – Sound Design in Our Sound Environment: Soundscape Design, Auralisation and Evaluation in Environmental Acoustics
Henrik Frisk – An experimental archive for artistic practice
Presentations slides can be found here:
https://www.kth.se/mid/news/seminars-on-the-occasion-of-ludvig-elblaus-phd-defence-1.820638
May 24th – Workshop on state of the Art in Sound Synthesis and procedural Audio at AES convention in Milan:
http://www.aes.org/events/144/workshops/?ID=5912
Stefania Serafin and Vesa Välimäki are invited speakers from NordicSMC.